Houston Storytellers' Guild holds many themed events throughout the year. Our Liars' Contest, Tellabration and October Screamers are just a few.
If you'd like to submit an event for our calendar, please email us at hsg@houstonstorytellers.org
---

Monthly- Story Swap
4th Tuesdays, 7 AM – 8:30 PM

Story Swap Location:
Temple Emanuel  1500 Sunset Boulevard, Houston, TX 77005
 Let's Celebrate Together with the Magic of Story. We may get cranked early with business talk, guild ideas, and even some gossip. Then, we share, tell, and respond to each others stories. So bring your tales. Please keep them at 10 minutes max.
---
Skyline Screamers
Saturday, October 28, 2017 
7 PM – 9 PM
Marmion Park
Heights Blvd and 18th Street
Skyline Screamers: Ghost Tales Under the Stars, a free program of ghost stories, returns Saturday, October 28!
Bring your picnic basket, blanket, chairs and bug spray to Marmion Park, located on Heights Boulevard at 18th Street. Tale tellers from the Houston Storytellers Guild will share their favorite ghost stories from 7:00-9! For adults and kids who like to be scared – rain or shine (within reason).
Thanks to the
Houston Heights Association
for their co-sponsorship of this free program.
For more information call 713-643-8478.
---
Tellabration!™
The International Day of Storytelling!
By The Houston Storytellers Guild
The Black Labrador (Restaurant)
4100 Montrose Blvd.
Saturday, November 18, 2017
6:00 PM – 9:00 PM

Guilds and storytelling enthusiasts all around the globe will share their storytelling talents in concerts held in cities and towns to celebrate the art of storytelling. Locally, TELLABRATION!™ brings together each area's most celebrated storytellers, to delight, captivate, and mesmerize audiences with their stories. It creates a network of storytelling enthusiasts bonded together in spirit at the same time and on the same weekend.
Featuring:
A variety of great guild storytellers & volunteers from the audience.
Attendance is Free, but Limited.
Drink & Dine at this fine pub at your own expense while storytellers spin tales.
Reserve your spot, call Scott @ 713 816 3795
or email: bumscott@flash.net
---
Donna Ingham Live at Hickory Hollow101 Heights Blvd.
Saturday, November 18, 2017
11:00 AM-12:30 PM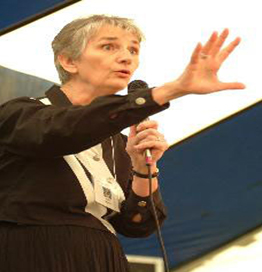 The Houston's Storytellers Guild and KPFT's So, What's Your Story? are excited to bring you Texas Storyteller Donna Ingham on Saturday, November 18, 2017, 11:00AM-12:30PM, at Houston's Best Barbeque, Hickory Hollow, 101 Heights Blvd.
Who?
A celebrated humorist and folklorist, Donna takes the art of storytelling and gives it that Texas twist no audience can resist. She has appeared in countless festivals in the States, and even swapped a yarn or two in "storied" Ireland.
Donna is a former college professor with a Ph.D. in English, published author, and nationally renowned workshop facilitator. A witty wordsmith, she's been named the "Biggest Liar" in Austin seven times and the "Biggest Liar" in Texas three times. And this is a heck of a big state!
Dr. Ingham is also the recipient of the prestigious John Henry Faulk Award for "Outstanding Contributions to the Art of Storytelling" as well as the National Storytelling Oracle Regional Excellence Award for "Exceptional Contributions to the Art of Storytelling." Donna is listed on the Texas Touring Roster of the Texas Commission on the Arts and on the Mid-America Arts Alliance Regional Touring Program.
Her reputation as a popular luncheon and after-dinner speaker makes her even more perfect for an already perfect Houston culinary icon: Hickory Hollow.
What you Need to Know:
Place: 101 Heights Blvd. (Heights and Washington, just over the tracks).
713-869-6300
Host: Hank Roubicek, Producer, So, What's Your Story? KPFT 90.1 FM, Wednesdays at 8-9 PM.
Cost: Nothin' but Tips and Buying Lunch for Everyone you bring. And get yourself somethin' too😊
Listen to Donna on So, What's Your Story? Wednesday, November 15 to hear what you do NOT want to miss.
---
Houston Storytellers Guild at Company Onstage
Saturday and Sunday
January 12th – 13th, 2017
7:00 PM
Salem Lutheran Church at 4930 West Bellfort

HSG is partnering with Company Onstage to create a new storytelling series in the companies newly renovated theatre in the Salem Lutheran Church at 4930 West Bellfort in Houston. The first program will be on Friday, January 12 and Saturday, January 13 at 7:00 PM. It will be an all ages show with the title "Animal Voices." We are looking for a wide variety of stories featuring animal characters including folktales, stories about your pets or livestock,or any other type of story with an animal theme.
Tellers receive 2 complimentary tickets for family or friends that can be used on either night. If your interested in telling, email alan_gardiner_atkinson@yahoo.com by Monday, November 27. Be sure to include your phone number.