Houston Storytellers' Guild holds many themed events throughout the year. Our Liars' Contest, Tellabration and October Screamers are just a few.
If you'd like to submit an event for our calendar, please email us at hsg@houstonstorytellers.org
---

Monthly- Story Swap
4th Tuesdays, 7 AM – 8:30 PM
Story Swap Location:
Temple Emanuel  1500 Sunset Boulevard, Houston, TX 77005
 Let's Celebrate Together with the Magic of Story. We may get cranked early with business talk, guild ideas, and even some gossip. Then, we share, tell, and respond to each others stories. So bring your tales. Please keep them at 10 minutes max.
---
Larry a Thompson – Award Winning Texas Storyteller
The Houston Storytellers Guild and KPFT's So, What's Your Story?
are proud to sponsor this special event at Hickory Hollow on June 3, 2017
We all know there's nothing better than lunch at Hickory Hollow Barbeque, unless you have the perfect entertainment to go with it. And on Saturday, June 3, from 11:00am-12:30pm, that is exactly what you'll get when you, your family, and your friends grab lunch at HH (at Heights Blvd. and Washington), and be treated to Award-Winning Texas Storyteller, Larry Thompson. Whether Larry is spinning tales about cowboys, family, wild times, or even his "Oh-Hell" moments, he does it with the kind of grit and polish most can only envy. He's more fun than the law allows. Need a sample first? Click on his link below or, better still, catch him LIVE on Wednesday, May 31, from 8-9pm on So, What's Your Story? on Houston's KPFT 90.1 FM.
Cost: Nothin' But Lunch. And you better buy a big one because you'll be there a while. And if you like what you hear (forget Like, you'll LOVE him), then leave him a tip. Howzat?
Larry Thompson – Storyteller In Texas
See You at Hickory Hollow for Larry Thompson on Saturday, June 3.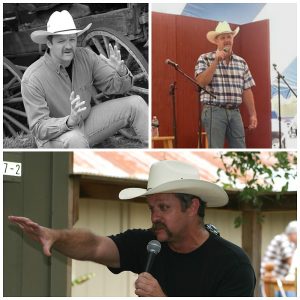 ---
Houston Liars' Contest #30
Saturday, April 14th, 2018
7:00 PM
Dillon I at Houston Baptist University
7502 Fondren Rd, Houston, TX 77074
$8.00 for Members – $10.00 for Non-Members
Save
Save
Save
Save